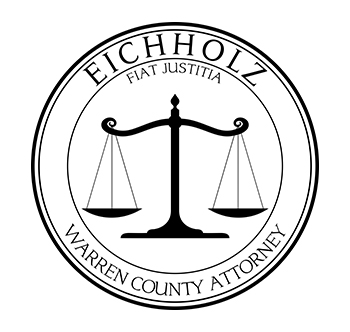 Douglas A. Eichholz
Warren County Attorney
Address
115 N Howard Street, Suite 200
Indianola, IA 50125
Office Hours
8:00 a.m. – 4:30 p.m.
Monday – Friday
Mission Statement
The Warren County Attorney's Office strives to seek equal justice for all Victims and Defendants under the laws of the United States, State of Iowa, and Warren County, as well as provide the highest quality legal advice and representation to Warren County government.
The Warren County Attorney is the Chief Law Enforcement Officer, Chief Criminal Prosecutor and the Lawyer for Warren County government.
The County Attorney does:
Prosecute all violations of State criminal laws and County ordinances.
Provide legal advice to the Board of Supervisors, County Officials, and Township Officers.
Represent and defend the County, and its Officials in officially related cases.
Recover all moneys (debts, fines, penalties, etc.) owing to the State and County.
Represent the County at all mental health commitment proceedings and all juvenile delinquency and child in need of assistance cases.
General Misconceptions
The County Attorney does not:
Give legal advice to or represent private groups or persons.
File lawsuits for private persons or defend them against lawsuits, including actions for dissolution of marriage.
Prepare wills, deeds or other legal documents for private individuals.
Investigate civil matters for private citizens.